1979 AM GENERAL AM151A2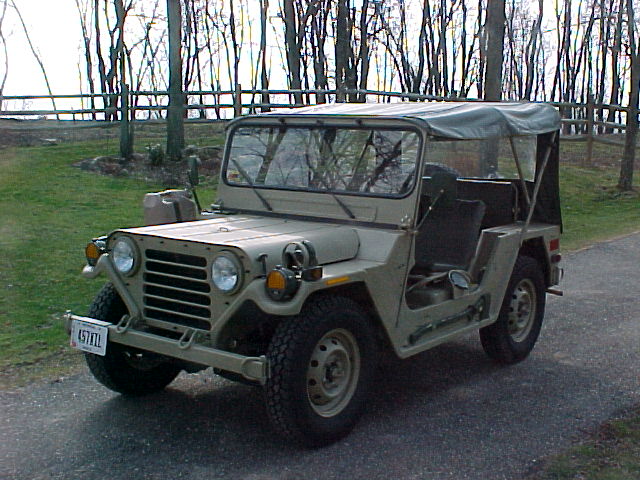 Assembled and detailed by David Pizzoferrato, Pizzoferrato Enterprises, Richmond Ohio
Canvas, Seats, and Webbing by Pizzoferrato Ent./Weebee Webbing
This vehicle is not a restoration. It was assembled entirely of NOS parts beginning with an unmolested NOS Unibody. I built this MUTT to fulfill a lifelong dream of making a cross country trip in a military jeep. As such, no expense was spared in preparing this vehicle. I purchased a complete titled AM151A2 in 2001 (The AM designation, as in AM151A2, was AM General's designation given to Military Export Vehicles. Many AM type vehicles were used by the US Air Force as well). The vehicle purchased was built with a perfect NOS unibody and low mileage take off parts, but that wasn't good enough for me. I basically purchased an expensive titled vehicle to acquire the NOS unibody for my own project. After acquiring the vehicle, I used it annually for the Memorial Day parade and for some fair weather jeep trips. I also began collecting all of the parts to build this as a new vehicle. NOS parts included Crate Motor, Transmission/Transfer assembly, 1100 series differentials, all suspension components, all driveline components, all brake and wheel components, all electrical components, and all cooling system components. I personally uncrated, unwrapped, unboxed and/or unpacked every piece of this vehicle.
If you look closely, you will notice some high dollar upgrades to the electrical system. In addition to the NOS wiring harness, the front and rear composite lights as well as the side marker lights are the latest military issue LEDs produced by TruckLite under the Omnivolt series for the US Military. At the time of purchase, each composite light was over $300. The side marker lights were over $80 each and the Blackout Drive lamp was over $150. In addition to those lights, I also upgraded the headlamps to the Hella H7 housings with 75 watt halogen bulbs. The entire lighting system is controlled by the new military digital light switch which was about $250 at the time. If you add it all up, there is over $2000 in the lighting system alone. Overboard perhaps, but I wanted to see and be seen on my trip.
The only items that are not NOS are the outer steering column tube, air cleaner housing, horn, windshield frame, transmission hump cover, and seat frames.
The vehicle rolls on appropriately sized AT radials mounted on NOS wheels. Not pictured are the customized doors and side curtains. I made the side curtains with a provision to roll them up without removing them and the upper half of the doors can be easily opened for a half door effect. There is also a custom full set of heavy vinyl insulated floor mats. I have installed a military Solargizer battery maintainer as well as a battery disconnect (accessible through the tool box), and a keyed main wiring harness disconnect under the dash in the driver area.
In addition to the MUTT, I also restored a matching M416A1 Trailer complete with the same lighting upgrades.
I have heard many MUTT owners and experts comment that this is the most complete and nicest MUTT that they've ever seen. This vehicle couldn't be duplicated for less than $25000 in parts alone, If you could find an NOS body. It is complete down to the smallest detail. As I have a reputation to uphold, I do not skimp on my work by leaving out unimportant items and details. Every piece of hardware is correct and present. Every wiring harness clamp and keeper is correct and present. Every retainer chain and pin is correct and present. Every wiring terminal and junction is correct and present. Although this vehicle is 100% complete, it was built to be driven and is no worse for wear than any new vehicle with 8700 miles on the odometer. This is not a trailer queen. It is a perfect example of a complete MUTT with some usefull military upgrades with some proven road miles on it.
This does not have a ROPS kit and has never had a ROPS kit mounted. It is no secret that in order to mount a ROPS kit, some severe and irreversible damage must be done to the unibody. As such, I wanted an NOS pre-ROPS body and have not mounted any other accessories which require drilling or otherwise molesting the body. The exception is the forward mounted water can on the passenger cowl. This is properly installed with the military mounting and reinforcing kit. I made this exception in order to carry the water can as well as a fuel can on my trip.
---
Below are images of the vehicle. These images are linked to the Full Resolution Image (Left click to load Full Image, Right Click on Full Image to Save).